Jorjin Technologies' WG7801-B0 is a 2.4GHz WLAN system in package (SiP) module based on the WL1801 SoC from Texas Instruments. It contains a power amplifier, Tx filter as well as the necessary passive components to fully implement the 802.11b/g/n WiFi functions.
The only difference between WG7801-B0 and WG7801-D0 is the operating temperature that WG7801-B0 supports -40°C ~ 85°C, while WG7801-D0 supports -20°C ~ 75°C. WG7801-B0 WLAN is connected to the host processor via a 1.8V SDIO interface.  Linux and Android drivers are provided for a wide range of application processors, with WinCE and Windows Mobile drivers available from our partner network.
Jorjin can supply a suitable 2.4GHz chip antenna for the WG7801-B0 and can provide complete design services including a full design review and FCC/CE certification.
---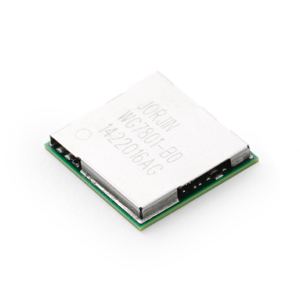 IEEE 802.11 b/g/n

Dimension 12.8mm(L) x 12mm(W) x 1.7mm(H)

Based on TI Wilink8 45-nm CMOS technology

Seamless integration with TI Sitara and other application processors

Operating temperature
WG7801-B0: -40°C ~ 85°C
WG7801-D0: -20°C ~ 75°C

Supplied on 1800 pieces tape and reel