Culture Tech Alliance (Cultech) CEO HUANG,WAN-HUA, Coordinator SHIH,JHEN-RONG, and Jorjin Technologies co-host the CEO Connect Event.
At the beginning of the event, SHIH,JHEN-RONG, the coordinator of Cultiech, and Tom Liang, the chairman of Jorjin, discussed the issue of how to integrate technologies and contents by utilizing AR smart glasses.
People used to receive information from a fix and widescreen as well as smartphones after the mobile Internet becomes widespread. However, Tom considers that even though the smartphone is portable, users still have to be held in hand and look down at the screen, causing inconvenience. Therefore, Tom believes that the development of smart glasses in flourishing since one of the features of smart glasses is displaying information in front of the eyes, which can be accepted by the public because the design is closest to human habits.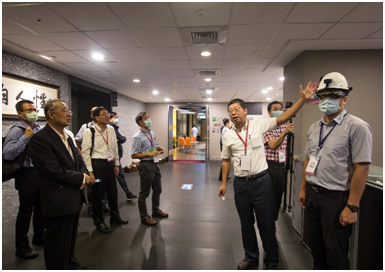 JORJIN CEO TOM Liang Introduce AR Glasses to ACER Founder, Mr. Stan Shih
Mr. SHIH also indicated: "Following by the era of 5G, various application associating with smart glasses will be valued by the market. Jorjin has endeavored to develop the field of AR smart glasses for a long time. I look forward to collaborating with Jorjin across different fields by exchanging information and knowledge through the matching platform between technology and culture providing by Cultech. As the concept of Si-vilization I proposed, Jorjin is able to merge more cultural contents with smart glasses to leverage the value of technology products and contribute more to the application in diverse fields."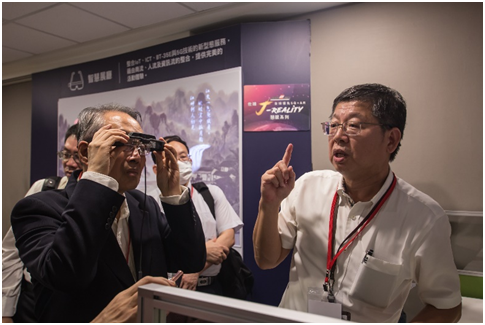 Stan Shih , the Co-founder & Honorary Chairman of Acer Inc, use JORJIN AR Glasses to watch the interactive 3D AR industrial content.
During the event, guests understood how to take advantage of 5G+AR to innovate the application combining with culture and entertainment. In addition, they also utilized the newest AR smart glasses developed by Jorjin integrating with the projector, mmWave sensor, and other devices to experience the immersion AR interaction. All guests were surprised at the astonishing images displaying in front of eyes through smart glasses which is totally disparate from the normal sight seen from eyes.