Application: Public Safety
Product: Monocular Smart Glasses J-Supporter
Country: Taiwan
Jorjin and Keelung City Fire Department Developed the New Generation of Emergency Medical Service System (EMSS)
Taiwan, recently becoming an aged society, has had its elderly population of Keelung reach 12.55% as well. In this context, the undermanning of firemen (1 fireman to 1,626 people) and the lack of an integrated fire system has caused workloads to be overly excessive. The performance of emergency medical systems (EMS) was inefficient without a swift communication platform between emergency medical technicians (EMT), emergency operation centers, and medical professionals.
Therefore, Keelung City Fire Department cooperated with Jorjin Technologies Inc. and Peer Giant to introduce a mobile reporting platform, smart glasses, and a smart fire system for better coordination.
Increase Efficiency and Quality Through Jorjin's Smart Glasses J-Supporter
With the requirements of Keelung City Fire Dept. in mind, Jorjin and Peer Giant developed a specific solution using the J-supporter smart glasses, providing remote support service which enables prompt communication between EMTs, emergency operation centers, and medical professionals. This leads to quicker reaction time for EMTs when emergencies arise, allowing them to swiftly comprehend situations, so that 1st aid and advanced directives may be applied immediately, leading to greater EMS efficiency.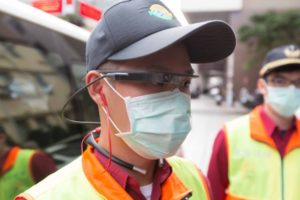 With smart glasses, EMTs may also free their hands while making video calls to online medical professionals, continuing their work without interruption, while the smart glasses can also take pictures and record videos through the first-person perspective, passing on vital information, so that though medical professionals are off-site, they can still assess the patient's condition and provide feedback via various channels, including an interactive whiteboard. Keelung City Fire Dept. has already saved several OHCA patients through the assistance of Jorjin's smart glasses.
The Most Successful Example of Smart Fire Systems with Jorjin Smart Glasses
Keelung City Fire Dept. has 18 ambulances, and 18 sets of Jorjin smart glasses J-Supporter were placed within each ambulance. When EMTs link the smart glasses with the hospital, medical professionals could be updated on the patient's condition at any time. Jorjin and Peer Giant provide comprehensive training and after-sales service to make sure users are accustomed to the operation of smart glasses as soon as possible.
In this project, Jorjin aside from being the provider of hardware, is also a comprehensive solution provider, also participating on the software side along with system integrators and software partners to provide the correct solution needed to solve Keelung City Fire Dept.'s problem.